Baby girl names beginning with j
---
Published by:
Kerry
Category: Other
Boys Names: A | B | C | D | E | F | G | H | I | J | K | L | M | N | O | P | Q | R | S | T | U | V | W | X | Y | Z Girls Names: A | B | C | D | E | F | G | H | I | J | K | L | M | N | O | P | Q | R | S | T | U | V | W | X | Y | ZJacea, Jacee, Jaci, Jacia, Jaciah, Jacie, Jaciel, Jaciela, Jaciele, Jacy, Jacya, Jacyah, Jacylin, Jacylina, Jacylinah, Jacyline, Jacylyn, Jacylyna, Jacylynah, Jacylyne, Jaycee, Jaycea, Jaysee, Jaysea, Jaysie Jacenda, Jacenta, Jacentah, Jacindah, Jacinde, Jacindea, Jacindee, Jacindey, Jacindi, Jacindia, Jacindie, Jacindy, Jacinth, Jacintha, Jacinthe, Jacynda, Jacyndah, Jacynta, Jacynth, Jacynthe, Jakinda, Jakindah, Jakynda, Jakyndah, Jasinda, Jasindah, Jasinde, jasindea, Jasindey, Jasindi, Jasindia, Jasindy, Jaxina, Jaxine, Jaxyn, Jaxyna, Jaxynah, Jaxyne Giacinta, Hiacinth, Hiacintha, Hiacinthe, Hyacinth, Hyacintha, Hyacinteh, Jacanta, Jacenta, Jacenta, Jacente, Jacinda, Jacindah, Jacinde, Jacindea, Jacindee, Jacindi, Jacndia, Jacindy, Jacinna, Jacinnia, Jacintah, Jacinte, Jacinth, Jacintha, Jacinthe (French), Jacinthia, Jacyn, Jacynda, Jacyndah, Jacyndea, Jacyndee, Jacyndi, Jacyndia, Jacyndy, Jacyntha, Jacynthia, Jacynthy, Jacynthe, Jasinda, Jasindah, Jasinde, Jasinta, Jasintah, Jasinte, Jasynda, Jasyndah, Jasyndea, Jasyndee, Jasyndey, Jasyndi, Jasyndia, Jasyndie, Jasyndy, Jaxinta, Jaxintah, Jaxinte, Jazinda, Jazindah, Jazindea, Jazindee, Jazindia, Jazindie, Jazindy, Jazinta, Jazintah, Jazynte Jacea, Jacee, Jacey, Jackea, Jackee, Jackey, Jacki, Jackia, Jackiah, Jackie, Jacky, Jacquay, Jacquai, Jacquay, Jacque, Jacquei, Jacquey, Jacy, Jakea, Jakee, Jaki, Jakia, Jakiah, Jakie, jakkea, Jakkee, Jakki, Jakkia, Jakkiah, Jakkie, Jakky, Jakkya, Jakkyah, Jakquai, Jakquee, Jakquei, Jakquey, Jakqui, Jakquie, Jakuy, Jaky, Jaquai, Jaquee, Jaquei, Jaquey, Jaqui, Jaquie, Jaquy, Jaky Gada, Gadah, Gade, Gaid, Gaida, Gaidah, Gaide, Gayd, Gayda, Gaydah, Gayde, Jada, Jadah, Jadda, Jaddah, Jadea, Jadee, Jaden, Jadena, Jadene, Jadeen, Jadeena, Jaden, Jadena, Jadera, Jadielin, Jadielyn, Jadienna, Jadienne, Jaed, Jaeda, Jaedah, Jaid, Jaida, Jaidah, Jaide, Jayd, Jayda, Jaydah, Jayde Jameisha, Jamesa, Jamese, Jamesisha, Jameshya, Jameshyia, Jamesia, Jamesica, Jamesika, Jamesina, Jamesinah, Jamesine, Jamessa, Jamesse, Jameta, Jametta, Jamette, Jameysha, Jameyshia, Jameyshiah, Jameyshya, Jameyshyah, Jameysina, Jameysinah, Jameysine, Jameysyna, Jameysynah, Jameysyne, Jamisha, Jammisha, Jammysha, Jamysha Jaema, Jaemah, Jaemea, Jaemeah, Jaemee, Jaemey, Jaemi, Jaemia, Jaemiah, Jaemy, Jaemya, Jaemyah, Jahmea, Jahmee, Jahmi, Jahmia, Jahmiah, Jahmie, Jahmy, Jaima, Jaimah, J'aime, Jaime, J'aimee, Jaimee, Jaimea, Jaimeah, Jaimee, Jaimey, Jaimi, Jaimia, Jaimiah, Jaimie, Jaimini, Jaiminia, Jaiminiah, Jaimmie, Jaimy, Jaimya, Jaimyah, Jama, Jamah, Jamea, Jameah, Jamee, Jamei, Jameisha, James, Jamesa, Jamesah, Jamesha, Jamesi, Jamesia, Jamesie, Jameysha, Jami, Jamia, Jamiah, Jamii, Jamiia, Jamika, Jamikah, Jamilean, Jamileana, Jamileanah, Jamileane, Jamileen, Jamileena, Jamileenah, Jamileene, Jamilin, Jamilina, Jamilinah, Jamiline, Jamilyna, Jamilynah, Jamilyne, Jamis, Jamisa, Jamisah, Jamise, Jammea, Jammee, Jammey, Jammi, Jammia, Jammiah, Jammii, Jammiia, Jammiiah, Jammiie, Jamy, Jamya, Jamyah, Jamye, Jammyee, Jamyka, Jamykah, Jayma, Jaymah, Jaymea, Jaymeah, Jaymee, Jaymey, Jaymi, Jaymie, Jamini, Jayminia, Jayminie, Jaymma, Jaymmea, Jaymmeah, Jaymmi, Jaymmia, Jaymmiah, Jaymmie, Jaymmy, Jaymmya, Jaymy, Jaymya, Jaymye, Jaymyea, Jaymyee Janaca, Janah, Janalea, Janalee, Janaleigh, Janaley, Janali, Janalie, Janalin, Janalina, Janaline, Janalis, Janalisa, Janalise, Janaly, Janalyn, Janalyna, Janalyne, Janalynn, Janalynna, Janalynne, Jania, Janiah, Janika, Janike, Janka, Janna, Janne, Jannia, Janniah, Jannya, Jannyah, Janya, Janyah, Yana, Yanah, Yania, Yaniah, Yanie, Yanna, Yannah, Yannie, Yanniah, Yannie, Yannya, Yannyah Hanneli, Jahn, Jahne, Jain, Jaine, Jana, Janaki, Janecza, Janee, Janel, Janell, Janella, Janelle, Janet, Janetje, Janett, Janetta, Janette, Janey, Jani, Jania, Janice, Janie, Janina, Janine (French), Janis, Janith, Janithe, Janithia, Janka, Janna, Jannah, Janne, Jannel, Jannell, Jannella, Jannelle, Jany, Janytha, Janythia, Janythiah, Jayne, Jaynee, Jenda, Jenica, Jinana, Vanya, Zaneta (Hebrew)Jaenel, Jaenela, Jaenelah, Jaenele, Jaenell, Jaenella, Jaenellah, Jaenelle, Jainel, Jainela, Jainelah, Jainele, Jainell, Jainella, Jainelle, Janela, Janelah, Janell, Janella, Janellah, Jannel, Jannell, Jannella, Jannellah, Jannelle, Janyll, Jaynel, Jaynela, Jaynelah, Jaynele, Jaynell, Jaynella, Jaynelle Jaenel, Jaenela, Jaenelah, Jaenele, Jaenell, Jaenella, Jaenellah, Jaenelle, Jainel, Jainela, Jainelah, Jainele, Jainell, Jainella, Jainelle, Janela, Janelah, Janell, Janella, Janellah, Jannel, Jannell, Jannella, Jannellah, Jannelle, Janyll, Jaynel, Jaynela, Jaynelah, Jaynele, Jaynell, Jaynella, Jaynelle Janesha, Janeska, Janiesa, Janiesha, Janish, Janissa, Janisse, Jannesa, Jannesha, Jannessa, Jannisa, Jannise, Jannissa, Jannisse, Jannys, Jannysa, Jannysah, Jannyse, Janys, Janysa, Janysah, Janyss, Janyssa, Janyssah, Janysse, Jessana, Jessane Janata, Janesha, Janeta, Janete, Janetje (Dutch), Janett, Janetta, Janette, Janita, Janith, Janitza, Jannet, Janneta, Jannetta, Jannette, Jannita, Jannitah, Jannite, Jannitta, Jannittah, Jannitte, Janot, Janota, Janote, Janta, Jante, Janyt, Janyta, Janyte, Janytta, Janyttah, Janytte Janeace, Janease, Janeece, Janeese, Janece, Janecia, Janeciah, Janeice, Janeise, Janese, Janiece, Janiese, Janika, Janike, Janis, Jaisa, Janisah, Janise, Janitz, Janitza, Janizzetta, Janizzette, Janneece, Janneice, Janniece, Jannice, Jannik, Jannika, Jannike, Jannique, Jannis, Jannisa, Jannisah, Jannise, Jannyce, Jannyca, Jannyce, Jannys, Jannysa, Jannysah, Jannyse, Janyce, Janys, Janysa, Janysah, Janyse, Jynice Janeca, Janecka, Janeeca, Janeeka, Janeica, Janeika, Jeneka, Janica, Janick, Janicka, Janieka, Janikka, Janikke, Janiqua, Janiquah, Janique, Janka, Janyca, Janycah, Janyck, Janycka, Janyk, Janyka, Janyqua, Janyquah, Janyque, Jenica, Jenicah, Jenicka, Jenika, Jeniqua, Jeniquah, Jenique, Jennica, Jennika, Jennyca, Jennycah, Jennycka, Jennyka, Jenyca, Jenycah, Jenyka, Jenyqua, Jenyquah, Jenyque Jan, Jana, Janae, Jane, Janean, Janeana, Janeane, Janeen, Janeena, Janeene, Janenan, Janene, Janeva, Jania, Janice, Janina, Janina (Polish), Janinah, Janne, Janne, Jannene, Jannina, Jannine, Jannyna, Jannyne, Janyna, Janynah, Janyne, Jean, Jeanne, Jenina, Jeninah, Jenine, Jenyna, Jenynah, Jenyne Janic, Janica, Janicah, Janick, Janicka, Janickah, Janicqua, Janicquah, Janicque, Janik, Janika, Janikah, Janike, Janiqua, Janiquah, Janyc, Janyca, Janycah, Janycka, Janyk, Janyka, Janykah, Janyke, Janyqua, Janyquah, Janyque Janeata, Janeatah, Janeeta, Janeetah, Janeita, Janeitah, Janitah, Janitra, Janitza, Janyta, Janytah, Jeneata, Jeneatah, Jeneeta, Jeneetah, Jenita, Jenitah, Jennita, Jennitah, Jennyta, Jenyta, Jenytah, Juanita Jasmin, Jasmina, Jasminah, Jasmyn, Jasmyna, Jasmynah, Jasmyne, Jazmin, Jazmina, Jazmine, Jazmyn, Jazmyna, Jazmynah, Jazmyne, Jazzmin, Jazzmina, Jazzminah, Jazzmine, Jazzmyn, Jazzmyna, Jazzmynah, Jazzmyne, Jesmin, Jesmina, Jesminah, Jesmine, Jesmyn, Jesmyna, Jesmynah, Jesmyne, Jessmin, Jessmina, Jessminah, Jessmine, Jessmyn, Jessmyna, Jessmynah, Jessmyne, Jezmin, Jezmina, Jezminah, Jezmine, Jezzmin, Jezzmina, Jezzminah, Jezzmine, Jezzmyn, Jezzmyna, Jezzmynah, Jezzmyne Jaeleen, Jaeleena, Jaeleenah, Jaeleene, Jaelen, Jaelena, Jaelenah, Jaelene, Jaileen, Jaileena, Jaileenah, Jaileene, Jailen, Jailena, Jailenah, Jaillene, Jayleen, Jayleena, Jayleenah, Jayleene, Jaylen, Jaylena, Jaylenah Jaan, Jaana, Jaanah, Jaane, Jaen, Jaena, Jaene, Jaeen, Jaeena, Jaeene, Jain, Jaina, Jainah, Jaine, Jayn, Jayna, Jaynee, Jayni, Jaynie, Jaynita, Jaynite, Jaynitta, Jaynitte, Jaynn, Jaynna, Jaynnah, Jaynne, Jane Jazlean, Jazleana, Jazleanah, Jazleane, Jazleen, Jazleena, Jazleenah, Jazleene, Jazlin, Jazlina, Jazlinah, Jazline, Jazlyna, Jazlynah, Jazlyne, Jazlynn, Jazlynna, Jazlynnah, Jazlynne, Jazzleen, Jazzleena, Jazzleene, Jazzlin, Jazzlina, Jazzlinah, Jazzline, Jazzlyn, Jazzlyna, Jazzlynah, Jazzlyne, Jazzlynn, Jazzlynna, Jazzlynee Gean, Geana, Geanah, Geane, Geen, Geena, Geenee, Geenia, Genni, Gennie, Genny, Gina, Ginah, Gyn, Gyna, Gynah, Jeana, Jeancie, Jeane, Jeanee, Jeaneen, Jeanetta, Jeanette, Jeani, Jeanie, Jeanina, Jeanine, Jeanetta, Jeanette, Jeanetton (French), Jeann, Jeanna, Jeannah, Jeanne (French), Jeannine, Jeano, Jeany, Jeen, Jeena, Jeene, Jeenia, Jehan, Jenela, Jenelah, Jenele, Jenell, Jenella, Jenellah, Jenelle Janeat, Janeata, Janeatah, Janeate, Janeatt, Janeatta, Janeattah, Janeatte, Janeet, Janeeta, Janeetah, Janeete, Janet, Janeta, Janetah, Janete, Janett, Janetta, Janettah, Janette, Jeanet, Jeaneta, Jeanetah, Jeanete, Jeanett, Jeanetta, Jeanettah, Jenet, Jeneta, Jenetah, Jenete, Jenett, Jenetta, Jenettah, Jenette, Jinet, Jineta, Jinetah, Jinete, Jinett, Jinetta, Jinettah, Jinette, Jonet, Joneta, Jonetah, Jonete, Jonett, Jonetta, Jonettah, Jonette, Jynet, Jyneta, Jynetah, Jynete, Jynett, Jynetta, Jynettah, Jynette Jalaina, Jalaine, Jalana, Jalane, Jalanna, Jalanne, Jalayna, Jalayne, Jalean, Jaleana, Jaleanah, Jaleane, Jaleen, Jaleena, Jaleenah, Jaleene, Jalenah, Jalene, Jalaina, Jalainah, Jalaine, Jalin, Jalina, Jalinah, Jaline, Jalyn, Jalyna, Jalynah, Jalyne, Jelana, Jelanah, Jelane, Jelean, Jeleana, Jeleanah, Jeleane, Jeleen, Jeleena, Jeleenah, Jeleene, Jelenah, Jelene, Jelyn, Jelyna, Jelynah, Jelyne Ganor, Gaynor, Gennifer, Binevra, Buenevere, Gwyneth, Jenafar, Jenafer, Jeneffar, Jenaffer, Jenava, Jenavah, Jenefar, Jenefer, Jenifar, Jenifer, Jennafar, Jennafer, Jennefar, Jennefer, Jennelle, Jennifar, Jenniful, Jennilea, Jennileah, Jennilee, Jennileigh, Jenniva, Jennivah, Jennyfar, Jennyfer, Jenyfar, Jenyfer Geraldina, Geraldinah, Geraldine, Geraldeen, Geraldeena, Geraldeene, Geeraldyn, Gealdyna, Geraldyne, Jeraldeen, Jeraldeena, Jeraldeene, Jeraldena, Jeraldene, Jeraldin, Jeeraldina, Jeraldinah, Jeraldyna, Jeraldynah, Jeraldyne Jeralin, Jeralina, Jeralinah, Jeraline, Jeralyn, Jeralyna, Jeralynah, Jeralyne, Jerilina, Jerilinah, Jeriline, Jerilyn, Jerilyna, Jerilynah, Jerilyne, Jerilynn, Jerilynna, Jerilnnah, Jerilynne, Jerylin, Jerylina, Jerylinah, Jeryline, Jerylyn, Jerylyna, Jerylynah, Jerylyne Jesamine, Jesamina, Jesaminah, Jesamon, Jesamona, Jesamone, Jesamyn, Jesamyna, Jesamynah, Jesamyne, Jessamin, Jessamina, Jessaminah, Jessamon, Jessamona, Jessamonah, Jessamone, Jessamy, Jessamyna, Jessamyah, Jessamyn, Jessamyna, Jessamyne, Jessemin, Jessemina, Jesseminah, Jesseminae, Jessmin, Jessmina, Jessminah, Jessmine, Jessmon, Jessmona, Jessmonah, Jessmone, Jesmy, Jessmyn, Jessmyna, Jessmynah, Jessmyne Jesica, Jesicah, Jesicka, Jesika, Jesikah, Jessaca, Jessah, Jessalin, Jessalina, Jessaline, Jessalyn, Jessalynn, Jessca, Jessia, Jessiah, Jesseca, Jessecah, Jesseka, Jessekah, Jessia, Jessiah, Jessicah, Jessicca, Jessicia, Jessicka, Jessieka, Jesskia, Jessikah, Jessiqua, Jessiquah, Jessique, Jessiya, Jessyca, Jessycka, Jessyka, Jessiqua, Jessyquah, Jezeca, Jezecah, Jezecka, Jezeka, Jezekah, Jezica, Jezicah, Jezicka, Jezika, Jezikah, Jeziqua, Jeziquah, Jezyca, Jezycah, Jezycka, Jisica, Jisicah, Jisicka, Jisika, Jisikah, Jisiqua, Jisiquah, Jyssica, Jyssicah, Jyssika, Jyssikah, Jyssica, Jyssicah, Jyssicka, Jyssika, Jyssikah, Jyssiqua, Jyssiquah, Jyssyca, Jyssycka, Jyssyka, Jyssykah, Jysica, Jysicah, Jysicka, Jysyka, Jysykah, Jysyqua, Jysyquah, Jezika, Gessika Jewal, Jewele (Lithuanian), Jewell, Jewella, Jewelle, Jewellea, Jewelleah, Jewellee, Jewelei, Jeweleigh, Jeweli, Jewelia, Jeweliah, Jewelie, Jewely, Juel, Juela, Juele, Juelea, Jueleah, Juelee, Juelei, Jueleigh, Jueli, Juelie, Juely, Julea, Juleah, Julee, Julei, Juleigh, Juli, Julie, July Jesabel, Jesabelah, Jesabele, Jesabell, Jesabella, Jessabellah, Jessabelle, Jessabel, Jessabela, Jessabelah, Jessabele, Jessabell, Jessabella, Jessabellah, Jessabelle, Jessebel, Jessebela, Jessebelah, Jessebele, Jessebell, Jessebella, Jessebellah, Jessebelle, Jezabel, Jezabela, Jezabelah, Jezabele, Jezabell, Jezabella, Jezabellah, Jezabelle, Jezebel, Jezebela, Jezabell, Jezabella, Jezabellah, Jezabelle, Jezebel, Jezebela, Jezebelah, Jezebele, Jezebell, Jezebella, Jezebellah, Jezebelle, Jezel, Jezela, Jezelah, Jezele, Jezell, Jezella, Jezellah, Jezelle, Jasabel, Jasabelah, Jazabele, Jazabell, Jazabella, Jazzabel, Jazzabelah, Jazzabele, Jazzabell Jazzabella Gill, Gillian, Gyl, Gyll, Jilietta, Jiliette, Jillana, Jillann, Jillana, Jillanne, Jilliana, Jilliann, Jillianna, Jillianah, Jyl, Jyll, Jyllana, Jyllanah, Jyllane, Jyllann, Jyllanna, Jyllannah, Jyllanne Gilian, Giliana, Gilianah, Giliane, Gillian, Gilliana, Gillianah, Gilliane, Gillyan,, Gillyana, Gillyanah, Gillyane, Gillyann, Gillyanna, Gillyannah, Gillyanne, Gylian, Gyliana, Gylianah, Gyliane, Gyliann, Gylianna, Gyliannah, Gylianne, Gyllian, Gylliana, Gylliannah, Gyllianne, Gyllyan, Gyllyana, Gyllyanah, Gyllyane, Jilian, Jiliana, Jilianah, Jiliane, Jiliann, Jillianna, Jiliannah, Jilianne, Jilliana, Jilianah, Jilliane, Jilliann, Jillianna, Jilliannah, Jillianne, Jillyann, Jillyanna, Jillyannah, Jillyanne, Jilyan, Jilyana, Jilyana, Jilyanah, Jilyae, Jilyann, Jilyanna, Jilyannah, Jilyanne, Julian, Juliana, Julianah, Juliane, Juliann, Julianna, Juliannah, Julianne, Jylian, Jyliana, Jylianah, Jyliane, Jyliann, Jylianna, Jyliannah, Jylianne, Jyllian, Jylliana, Jyllianah, Jylliane, Jylliann, Jyllianna, Jylliannah, Jyllianne, Jyllyan, Jyllyana, Jyllyanah, Jyllyane, Jyllyann, Jyllyanna, Jyllyannah, Jyllyanne Jocalin, Jocalina, Jocaline, Jocalyn, Jocelin, Jocelina, Jocalinah, Jocaline, Josalin, Josalina, Josalinah, Josaline, Josalyn, Joselin, Joselina, Joselinah, Joselina, Joseline, Joselyn, Jossalin, Jossalina, Jossalinah, Jossaline, Jossalyn, Joslina, Joslinah, Josline, Joslyn, Joycalin, Joycalina, Jocalinah, Joycaline, Joycalyn, Joysalin, Joysalina, Joysalinah, Joysaline, Joysalyn, Jukundra, Jununda, Jozilyn Jode, Jodea, Jodee, Jodett, Jodetta, Jodette, Jodey, Jodia, Jodie, Jodis, Jody, Joedee, Joedey, Joedi, Joedie, Joedy, Johdea, Johdee, Johdey, Johdi, Johdie, Johdy, Jowdea, Jowdee, Jowdey, Jodi, Jowdie, Jowdy Joel, Jo-el, Joela, Joelah, Joele, Joelean, Joeleana, Joeleanah, Joeleane, Joeleen, Joeleena, Joeleenah, Joeleene, Joelena, Joelenah, Joelene, Joelin, Joelina, Joelinah, Joeline, Joell, Joella, Joellah, Joellen, Joellena, Joellenah, Joellene, Jowel, Jowela, Jowelah, Jowele, Jowell, Jowella, Jowellah, Jowelle Jole, Jolea, Joleah, Jolee, Jolei, Joleigh, Jolena, Jolenah, Jolene, Joley, Jolina, Jolinah, Jolinda, Joline, Jolli, Jollea, Jolleah, Jollei, Jolleigh, Jollie, Jollina, Jollinah, Jollinda, Jolline, Jolly, Joly, Jolye Jolaina, Jolainah, Jolaine, Jolana, Jolane, Jolanna, Jolannah, Jolanne, Jolanta, Jolantah, Jolante, Jolean, Joleana, Joleanah, Joleane, Joleen, Joleena, Joleenah, Joleene, Jolena, Jolenah, Jolene, Jolenna, Jolennah, Jolenne, Jolin, Jolina, Joliinah, Joline, Jollean, Jolleana, Jolleanah, Jolleane, Jolleen, Jolleena, Jolleene, Jollin, Jollina, Jollinah, Jollyn, Jollyna, Jollynah, Jollyne, Jolyn, Jolyna, Jolynah, Jolyane, Jolyann, Jolyanna, Jolyannah, Jolyanne Jona, Jonae, Jonah, Jonae, Jonai, Jonati, Jonatie, Jonaty, Joncee, Jonci, Joncie, Jonee, Joneeka, Joneen, Joneena, Joneika, Joneisha, Jonella, Jonelle, Jonessa, Jonetia, Jonetta, Jonette, Joney, Jonie, Jonia, Joniah, Jonica, Jonicah, Jonika, Jonilee, Jonina, Joninah, Jonine, Joniqua, Jonique, Jonis, Jonisa, Jonise, Jonisha, Jonishah, Jonit, Jonita, Jonite, Jony Jorda, Jordah, Jordain, Jordaina, Jordaine, Jordana, Jordane, Jordann, Jordanna, Jordanne, Jordayn, Jordayna, Jordayne, Jorden, Jordena, Jordene, Jordenn, Jordenna, Jordenne, Jordin, Jordina, Jordine, Jordinn, Jordinna, Jordinne, Jordon, Jordona, Jordone, Jordonn, Jordonna, Jordonne, Jordyn, Jordyna, Jordyne, Jordynn, Jordynna, Jordynne, Jordannah, Jourdan, Jourden, Jourdyn Georga, Georgah, Georgan, Georgana, Georgane, Georgia, Georgina, Jorga, Jorgah, Jorgan, Jorgana, Jorgane, Jorgi, Jorgia, Jorjiah, Jorgie, Jorgina, Jorgine, Jorjan, Jorjana, Jorjanah, Jorjane, Jorjia, Jorjiah, Jorjina, Jorjya, Jorjyah, Jorjah Fifine (French), Giuseppina (Italian), Josaffina, Josafine, Josaphina, Josaphine, Josefa (Spanish), Josefena, Josepha (Greek), Josepha, Josephe, Josephena, Josephene, Josephin, Josephina, Josephiney, Josephyn, Josephyna, Josett, Josetta, Josette, Jozafin, Jozafina, Jozafine, Jozapata, Jozaphin, Jozaphina, Jozaphinah, Jozaphine, Jozaphyn, Jozaphyna, Jozaphynah, Jozaphyne, Jozefa, Jozefin, Jozefina, Jozefinah, Jozefine, Jozephin, Jozephina, Jozephinah, Jozephine, Jozephyn, Jozephyna, Jozephynah, Jozephyne, Jody, Josephyne Joesee, Joesell, Joesella, Joeselle, Joesetta, Joesette, Joesey, Josea, Josee, Josel, Josela, Josele, Josell, Josella, Joselle, Joset, Joseta, Josete, Josett, Josetta, Josette, Josey, Josi, Josia, Josiah, Josian, Josiana, Josiane, Josiann, Josianna, Josianne, Josielin, Joelina, Joseline, Josina, Josinah, Josine, Josinee, Josy, Josyn, Josyna, Josyne, Jozan, Jozana, Jozane, Joze, Jozee, Jozey, Jozi, Jozian, Joziana, Joziane, Joziann, Jozie, Jozy, Jozyn, Jozya, Jozyne, Jozze, Jozzee, Jozzey, Jozzi, Jozzie, Jozzy Joialin, Joialina, Joialinah, Joialine, Joialyn, Joialyna, Joialyne, Joilin, Joilina, Joilinah, Joiline, Joilyn, Joilyna, Joilyne, Joylin, Joylina, Joylinah, Joyline, Joylyna, Joylyna, Joylynah, Joylyne Anita, Juana, Juanah, Juandalin, Juandalina, Juandalyn, Juandalyna, Juandalyne, Juaneice, Juanequa, Juaneque, Juanesha, Juanice, Juanicia, Juaniqua, Juanique, Juanisha, Juanishia, Juanna, Junita, Junitah, Junyta, Junytah Gluditta, Jita, Juczi, Judal, Judana, Judane, Jude, Judeen, Judeena, Judena, Judene, Judett, Judetta, Judette, Judina, Judine, Judit, Juditha, Judithe, Juditt, Juditta, Juditte, Judyta, Judytt, Judytta, Jujube, Jutka, Jutha, Jytte (Danish)Juci (Hungarian), Jude, Judea, Judee, Judeen, Judeena, Judeenah, Judeene, Judey, Judi, Judian, Judiana, Judiane, Judiann, Judianna, Judiannah, Judianne, Judie, Judin, Judina, Judinah, Judine, Judyn, Judyna, Judynah, Judyne Julean, Juleana, Juleanah, Juleane, Juleen, Juleena, Juleenah, Juleene, Julena, Julenah, Julenia, Juleniah, Juline, Julinca, Julinka, Juliska, Jullean, Julleana, Julleanah, Julleane, Julleen, Julleena, Julleenah, Julleene, Jullin, Jullina, Jullinah, Julline, Jullyna, Jullynah, Jullyne, Julyna, Julynah, Julyne Dawlita, Eliidan, Guilietta, Jewelett, Jeweletta, Jewelette, Jewelit, Jewelieta, Jewliett, Jewelit, Jewelieta, Jewelietta, Jeweliette, Jewelyet, Jewelyeta, Jewelyett, Jewelyetta, Jewelyette, Juleata, Juleatah, Juleate, Juleet, Juleeta, Juleetah, Julette, Julet, Juleta, Juletah, Julett, Juletta, Julette, Juliett, Julietta, Jullietah, Julliete, Julliett, Jullietta, Julliette, Julyet, Julyeta, Julyetah, Julyete, Julyett, Julyetta, Julyette Giustina, Giustine, Gustina, Gustinah, Gustine, Gustyn, Gustyna, Gustynah, Gustyne, Justah, Juste, Justea, Justean, Justeana, Justeanah, Justane, Justee, Justeen, Justeena, Justeenah, Justeene, Justein, Justeina, Justeinah, Justeine, Justeyn, Justeyna, Justeynah, Justeyne, Justill, Justilla, Justille, Justinah, Justyn, Justyna, Justynah, Justyne Boys: A | B | C | D | E | F | G | H | I | J | K | L | M | N | O | P | Q | R | S | T | U | V | W | X | Y | Z Girls: A | B | C | D | E | F | G | H | I | J | K | L | M | N | O | P | Q | R | S | T | U | V | W | X | Y | ZA data processor dedicated to choosing a baby name. Have you ever wondered "How do I pick a name for my baby" or "How to name my baby" so you have go on to the right-handed place. We rich person boys repute and girls names and of course extraordinary of them are for both genders. By keeping the names in lists, this too makes it easy to browse.
Girls names starting with J
Baby Girl Names J
We person baby young lady name from all position that outset with the text J, it's one of the almost popular letters that parents select as the beginning of their miss girl's name. many quotes have no other than purpose than to brand you laugh...something we could all use more of. Many names have the cookie-cutter meaning because they're contrastive versions of a main name (like Jan, Jane, Joanna, etc.), while both have deep, flatbottom legendary, meanings attached to that precise name. Marlene is derived from region (Mary) and Magdalene. Get inspired or reassured, visit the quotes pages often. Whichever influential person you choose, from Jacinda to Jyoti, you're on the true track conscionable by choosing baby girls reputation starting with J.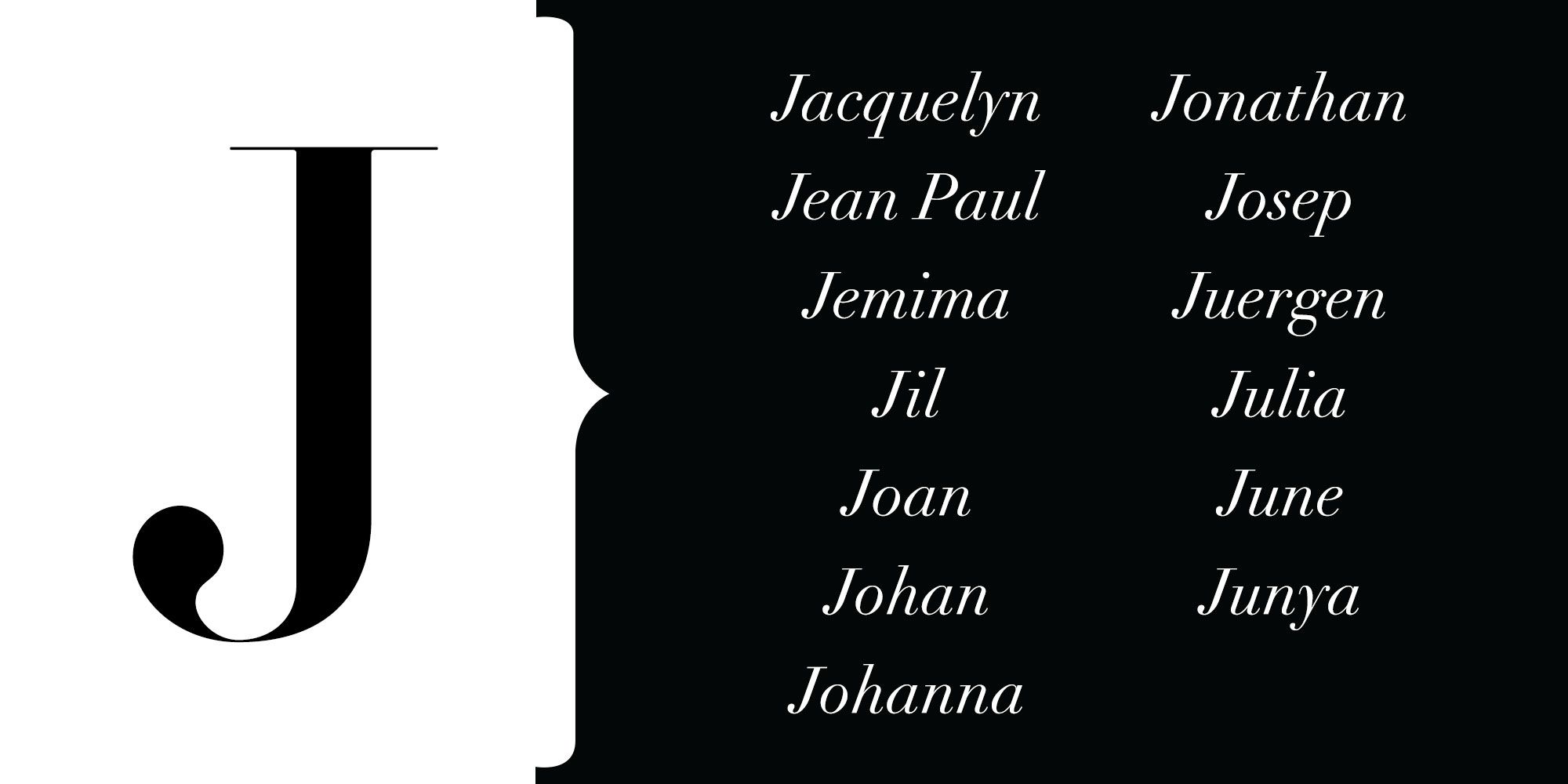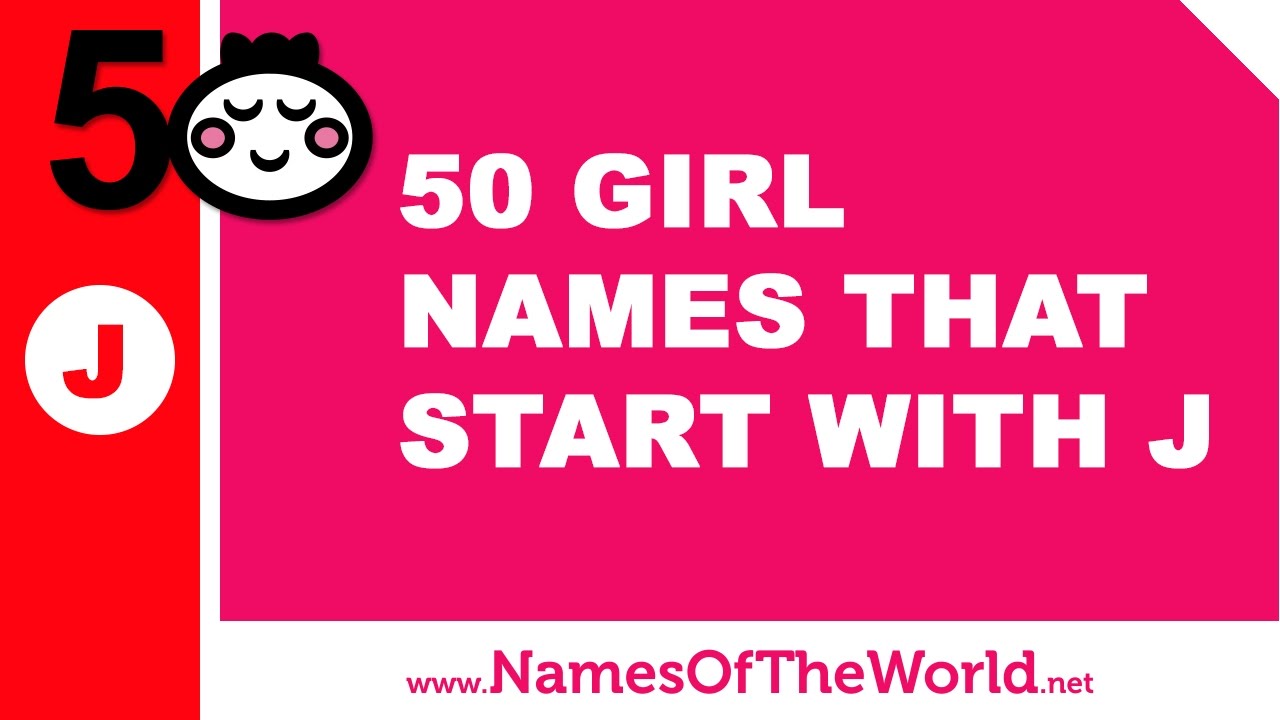 Published: 25.03.2018 at 06:10
Also look pics: